Macros,
why do I love them?
Let me count the reasons...
Same reasons I love cats, the mountains,
Ruffle potato chips and the Hubineer,
I just DO!
Hmm, maybe not in that order.
(First eyeing this scrap of paper that blew into our yard,
I thought, I'll shoot that for this week's theme "typography"...
later, I cracked up when I read the heading through the viewfinder!
Apparently this was an article/opinion in the Urban Tulsa Weekly,
no offense intended with this photo,
I just thought it was a funny thing to find.)
(Obviously our air conditioner is in bad shape!)
I submitted these shots to...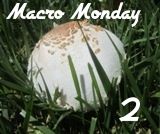 and "I Heart Macro" (
here
).
And I also submitted this shot to
the themed "Flickr Group Macro Mondays" (
here
)
and "Ipernity Group Macro Mondays" (
here
).
***
This week's theme
is "

Typography",
1. the art or process of printing with type.
2. the work of setting and arranging types and of printing from them.
3. the general character or appearance of printed matter.
***
Happy Click'n!