***
I ran out of TIME to enter this photo in the
Flickr group, "Macro Mondays"
which has a weekly theme (here and my Flickr gallery is here).
This week's theme was "Time" ~
"You can be literal and photograph a clock, watch or other sort of device that measures time. Or, alternatively, you may want to show the passage of time in a conceptual, editorial, or illustrative way. It is also possible to use a slow shutter speed and show time passing in a blur. "
Thank you J. Towbin for hosting and your helpful explanations!
Lucky for me, I got my photo posted to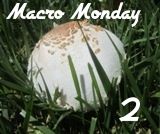 "Macro Monday 2" a Monday photo gallery blog
(here) hosted by
Gemma Wiseman and M
agical Mystical Teacher
.
A relaxed place to share your love of Macros and
to view wonderful Macro photography!
***
Chile con Queso
1 1/4 pounds white American cheese, diced or shredded
1/4 cup diced Anaheim chiles
1/4 cup chopped jalapenos
1/4 cup diced canned whole, peeled tomatoes
1 teaspoon chopped fresh garlic
3/4 teaspoon ground cumin
1/8 teaspoon freshly ground black pepper
1/2 cup browned ground sausage
Heat the cheese and milk in double boiler until melted and smooth. Add the remaining ingredients and continue to cook, stirring occasionally, for 20 minutes. Transfer the fondue to a lit and warm fondue pot or small chafing dish. Serve immediately with tortilla chips.
***
Any suggestions on how to use the habanero peppers?
Happy Click'n!